Long story short: I wrote a book on conversion optimization, SEO, and related topics, for software companies.  You can buy it here (Kindle, iPad, Nook, PDF) or on Amazon (Kindle).
For the last couple of years, folks have been asking for me to write about A/B testing, conversion optimization, and whatnot in book form.  I've never done it, simply because the notion of spending months of work with a publisher to write a book that would (all things being equal) likely fail to earn-out a $5,000 advance seemed to be a silly thing to do just to put "published author" on my resume.  I love writing and I like teaching, don't get me wrong, but writing as a profession always struck me as work, and not even particularly fun work.
The folks at Hyperink convinced me to give it a try, though.  They are basically trying to make Publishing 2.0 work as a business model: provide authors with design/editing/etc using a workflow which was invented by people who grew up on Google Docs rather than manual typewriters, and create books relevant to niche audiences partially by republishing existing essays and partially by supplementing them with new material.  (The upshot for the authors is that royalties are split more equitably than 93-7-but-with-accounting-practices-that-would-make-the-RIAA-proud.)
##
##
##
##
What It Includes
~ 20 essays that originally appeared on my blog, covering selling software, software pricing, conversion optimization, A/B testing, SEO, and the like, mostly of interest to software companies
~ 4 essays which are totally new, including one on reducing churn rates
a follow-up or two on how some experiments worked out after I had written them up… including never-before-seen tales of _abysmal failure, _because that sometimes teaches as much as the successes
Who Should Read This
Solo entrepreneurs running software businesses.  (I'd suggest actually having a working product — this book doesn't cover product development, except when it is incidental to optimizing for marketing outcomes.)
Marketing / engineering / product folks at SaaS companies looking to synergize get some ideas of things which engineers can build that will make meaningful differences for the business
Anybody who has ever thought "Rather than reading through 600 posts in chronological order, could you just distill your blog down into the best twenty posts and categorize them for me?  My time isn't totally valueless.  And put them on my Kindle/iPad/etc so I can read them on a plane.")
My family.  ("You wrote a book?  I want to read it!  What is it about?"  "Conversion optimization for software websites."  "I'll pass!")
Chapter List
Preface
Selling Your Stuff

Introduction (new essay)
You Should Probably Send More Email Than You Do
Does Your Product Logo Actually Matter?
Dropbox-style Two-sided Sharing Incentives
Two-sided Referral Incentives Revisited! (new essay)
Engineering Your Way To Marketing Success
Selling Software To People Who Don't Buy Software
Increase Your Software Sales
The Black Arts of SaaS Pricing

Increasing Conversions

Introduction (new essay)
Stripe And A/B Testing Made Me A Small Fortune
The Most Radical A/B Test I've Ever Done
Keeping The User Moving Towards Conversion
Practical Conversion Tips For Selling Software
Minor Usability Errors In Checkout Funnel = You Lose Lots Of Money
10-Minute Tweaks to Boost Your Conversion

All About SEO

Introduction (new essay)
SEO for Software Companies
Strategic SEO for Startups
The Big Book of Getting People to Link to You
Developing Linkbait For a Non-Technical Audience
Why You Shouldn't Pay Any SEO You Can Afford

Conclusion

Thanks for Reading, Lets Talk Churn Rates  (new essay)
Luckily, Hyperink Was In Charge Of Design, Not Me
If you've followed my blog or products for a while, you're probably aware that I have the design sense of an addlebrained squirrel who fell into the Christmas eggnog and drowned.  Luckily, Hyperink took care of the book design and typesetting, so that it looks better on your e-reader or screen than anything I would have natively produced.  Here's a sample (click to enlarge):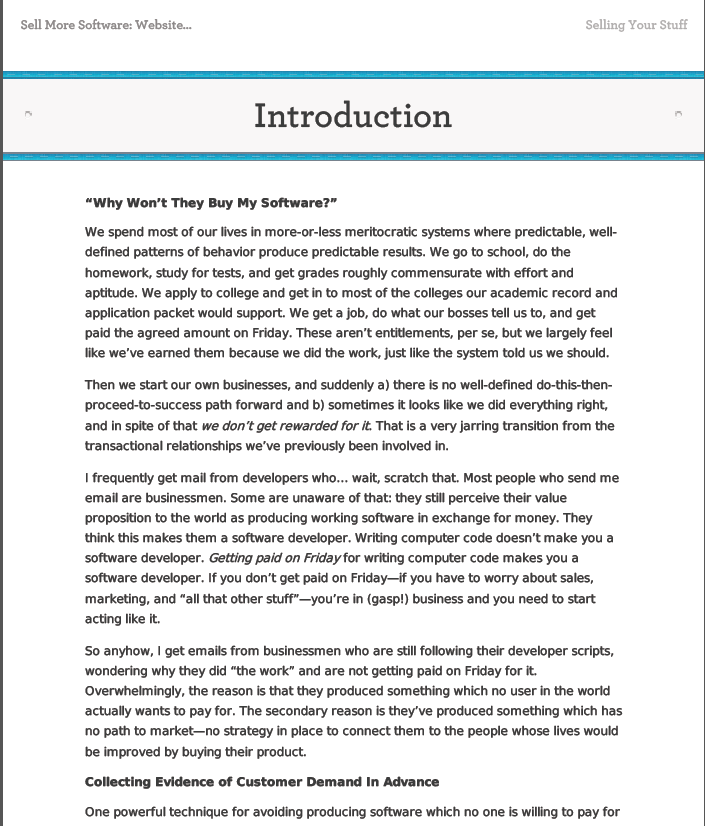 Formats Available
In Which I Explicitly Ask For The Sale
If you generally enjoy my writing and think a curated collection of twenty essays on the topic of making more money for your software business is of interest to you, please buy the book.  (It is, as far as I know, $9.99 everywhere you can buy it, but vagaries of the publishing industry mean that I can't guarantee that this is true for you.)  If you don't want to buy it, don't worry, I won't think any less of you — enjoy the blog, come back for more next year.  If you buy the book and enjoy it, I'd encourage you to leave a review on Amazon, as folks are really keen on seeing them.
Note to other potential authors: the folks at Hyperink are Good People and were a pleasure to work with in the discussion and editing process.  If you've considered trying your hand at writing a book but, like me, thought the traditional publishing industry is largely toxic and exploitative by construction, I'd encourage you to give them a whirl.
P.S. I traditionally post a Year In Review for my businesses, covering what worked and what didn't as well as statistics, shortly before Christmas.  See, for example, 2011's edition.  I will do it again this year, but owing to some bookkeeping hold-ups, it will be shortly after Christmas rather than before.  May you and your families have peace, love, and health this Christmas and always.